IMPORTANT NOTICE
Wine Tours after COVID-19
Due to the recent advice from Government and medical professionals, our tours have been temporarily shut down. We will commence our tours in the near future once we receive further advice. Read more
Looking for a fantastic day out on the best Hunter Valley Wine Tour?  We got this!
Award winning wines are yours to savour and experience on one of our highly popular Hunter Valley Wine Tours. Enjoy a small group people on one of our daily Hunter Valley tours  from Sydney, or if you're staying in the Hunter choose from either a full day or half day tour or join us from Newcastle on weekends.  We also provide customised private tours for small group for all occasions including hens day tours available from Sydney and from the Hunter Valley.
Very experienced Hunter Valley Wine Tour Operator
Hunter Valley Wine Tasting Tours specialise in small group personal Hunter Valley wine tours.  We operate a daily wine tour from Sydney as well as a local wine tour operating in the Hunter Valley and regular departures from Newcastle.
Why not join us for a day touring the wineries of the oldest wine region of Australia? You'll travel in an air-conditioned mini-coach, enjoy wine tastings at a great selection of 4 Hunter wineries/cellar doors, a cafe lunch, cheese sampling, liquor samples and a quick visits to one of local chocolate shops during the day. Whether you travel on our day tour from Sydney or stay overnight or for a weekend in the Hunter Valley and join our local tour, this is a great way to experience the Hunter wine region.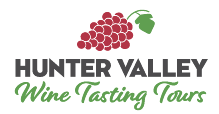 02 9550 2100
International +61 2 9550 2100