Hunter Valley Wine Tasting Tours – TERMS AND CONDITIONS

Please read our terms and conditions
Hunter Valley Wine Tasting Tours Terms
Terms & Conditions Cancellation Policy:
1. Within 24 hours of tour date – 100% cancellation fee.
2. Within 48 hours of tour date – 50% cancellation fee.
3. Cancellations or changes to numbers must be received in writing / email as early as possible and no later than 48 hours before the tour date.
Small Groups (5 or more people):
For a person booking a group of people on a wine tour, you must advise us in advance us of any changes to your numbers going on the tour as the above cancellation policy conditions will apply. e.g. If you book for 5 people, you pay for 5 people, if you booking for 7 people, you pay for 7 people etc. unless you advise us of a change to your numbers in advance. We want to give you maximum flexibility for possible changes to your numbers but retain the right to sell any unwanted seats at least 7 days prior to the tour.
Payment:
Payment is collected on the tour date by the driver / guide. You can choose to pay by cash, eftpos or credit card (Visa, MasterCard. No AMEX).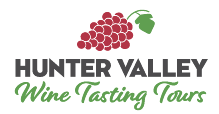 1800 400 008
International +61 2 9550 2100
108 Mitchell Avenue Kurri Kurri NSW 2327