HUNTER VALLEY WINE TOUR FROM NEWCASTLE
Hunter Valley Wine Tours from Newcastle

We operate under the NSW Govt COVID-19 Regulations for Tour Operators & Cellar doors for wine tastings as at July 2021.
Enjoy a small group wine tasting tour experience to the Hunter Valley just one hour from Newcastle
Enjoy an unforgettable day tour from Newcastle to the Hunter Valley including wine tastings, optional cafe lunch, a cheese sampling and chocolate shop visit
Full Day Tour | Departs every Saturday (or any day for private group tours)
NO HIDDEN CHARGES
All wine tasting charges are included in our tour price.
Enjoy a small group personal wine tasting tour from Newcastle to the Hunter – visit 4 wineries/cellar doors, enjoy a cheese sampling at one of the winery stops, purchase your own lunch or enjoy the tour cafe lunch and finish at one of the local Hunter chocolate shops.

Small Group Personal Wine Tour
Enjoy a small group personal Hunter wine tour experience with one of our knowledgable and friendly driver/guides. Maximum of 14 to 20 guests per tour.
Complimentary pick up & return to Newcastle
Pick ups available from convenient meeting points in Newcastle CBD, Newcastle East, Cooks Hill, Honeysuckle, Hamilton, Jesmond and other locations by arrangements. Pick ups commence from 8:20am to 9:00am. The tour departs Newcastle around 9:00am and returns around 5:00-5:30pm.
Wine tastings at leading Hunter wineries
Our flexible tour itinerary ensures you will visit 4 different wineries/cellar doors ranging from a mix of smaller boutique style and family owned vineyards and cellar doors to the larger commercial wine producers. You will sample approximately 5-8 wines at each winery/cellar door.
Wine & cheese pairing at the Hermitage Cellars included
You will enjoy a wine and cheese pairing at one of the cellar doors visited, the Hermitage Road Cellars at the Hunter Resort. We have an on-board fridge to keep any cheese purchases cool.
Stop for lunch at the Matilda Bay Brewhouse Cafe at the Hunter Resort
We stop for lunch at the Matilda Bay Brewhouse Cafe at the Hunter Resort. Enjoy a main course with your choice of a glass of wine or beer for $25 per person, or you are free to purchase your own lunch choice from the cafe blackboard menu. Check out the tour cafe lunch menu here.
Matilda Bay Brewhouse craft beer tasting available – at your expense
Optional beer tasting available during our lunch stop – note: at your expense. Try a beer tasting paddle with up to 12 different brews to choose from including lagers, ales, stout, cider, ginger beers and special brews.
A visit to one of the Hunter Valley Chocolate Shop outlets
Enjoy an afternoon visit to one of the popular Hunter Chocolate Shop outlets. Sample their complimentary samples with free time to browse and purchase if you wish.
Book direct online to save!!
Normal tour price is $140 per person BUT book direct online and save:
$120 per person
$120 also on all public holidays, long weekends and the Christmas-New Year peak period*.
Optional cafe lunch available for $25 per person
All prices are in Australian dollars (AUD$)
Please Note: Itinerary and timings may change or vary without notice.
For further information about this tour, click on the + icon to right of each heading below.
invisible
SEE FULL ITINERARY
8:30am – 9:00am – We will pick you up to join the tour from one of our strategic locations in Newcastle.
10:00am – 3:45pm – Visit a selection of 4 wineries/cellar doors in the Hunter Valley and enjoy private group tastings to sample and taste many red and white varieties. • Take the opportunity to purchase some of the best wine in Australia directly at the cellar door at great cellar door prices. • For an additional $25 enjoy an optional cafe lunch Enjoy a wine and cheese pairing of 4 wines and 4 cheeses • Visit one of the Hunter chocolate shop outlets.
4:00pm – We depart the Hunter Valley and cruise back to Newcastle arriving around 5.00pm.
LUNCH OPTIONS PLUS MORE AND MORE!
We stop for lunch at the Matilda Bay Brewhouse Cafe at the Hunter Valley Resort. Select the great value tour cafe lunch cafe option for $25 per person.Enjoy your choice of Gourmet Pizza and a fresh garden salad on the side – the Chef's specialty which includes your choice of a glass of wine or beer.
Alternatively, you are welcome to purchase your own lunch on the day. Purchase your selection from the blackboard cafe menu.
Note: during periods of peak demand e.g. long weekends, public holidays and the Christmas-New Year period etc, the Hunter Resort is an extremely popular venue. To avoid wait times and a guaranteed reserved table, we strongly recommend doing the tour group lunch option above.
Spend enough time at the Hunter Resort to experience their unique beer tasting paddle with accompanying tasting notes for up to 12 beers – at your expense. Or if you prefer, wander next door to the Hermitage Road Cellars to continue some more wine tasting. Nowhere in the Hunter can you try so many wines all under the one roof! An exclusive range of premium wines from small Hunter Valley winemakers – including Helé Family, Lisa McGuigan, David Hook, Andrew Thomas, Andrew Margan, Polin & Polin, Stormy Ridge, Crisford Family – just to mention a few…
Note: NO BYO lunch permitted.
Your Guide and Transport

You will be picked up by one of our professional driver/guides from convenient central Newcastle and surrounding suburb locations, or additional pick up points en route to the Hunter Valley.
Your knowledgeable driver knows the wineries and wines of the regions enhancing your experience as you tour the beautiful Hunter Valley.
Frequently Asked Questions about our Hunter Wine Tours
What is the duration of this tour?
The tour from Newcastle is a full day tour departing around 9:00am and returning in the evening around 5:00-5:30pm. Note: Pick ups for the tour around Newcastle commence at 8:20am to 9:00am. Check your booking confirmation for your pick time.
Is lunch included?
You have a choice to either purchase your own lunch or choose the oiptional tour afe lunch for $25 per person. The tour menu includes anti-pasto, pizzas and salads with your choice of a glass of wine or beer. Check out the lunch menu here.
What wineries do we visit?
We select some of the best wineries available in the Hunter Valley. The selection varies from day to day, driver to driver. Wineries on our list of popular venues include McGuigan Wines, Tulloch Wines, the Hermitage Road Cellars, Blueberry Hill Wines, Lambloch Wines, Mistletoe Wines, Mount View Estate, Ben Ean, Macquariedale Organic Wines, Ridgeview Estate to name a few. If you want to visit a specific winery, please consider a private Hunter Valley wine tour
How many people can book?
You can book for just one person, or any number of people.  For larger groups  we can provide you with a quote for your private Hunter Valley wine tour. based on the number of people in your group. Our maximum size of group is 20 people.
How often does this tour depart?
The tour departs every Saturday with extra dates added on long holiday weekends (Satudays & Sundays).  Private group tours got 10 or more people are available on any day of your choice. We do not run tours on Christmas Day, Boxing Day, New Year's Eve and New Year's Day.
PLEASE READ OUR TERMS & CONDITIONS
Hunter Valley Wine Tasting Tours Terms
Terms & Conditions Cancellation Policy:
1. Within 24 hours of tour date – 100% cancellation fee.
2. Within 48 hours of tour date – 50% cancellation fee.
3. Cancellations or changes to numbers must be received in writing / email as early as possible and no later than 48 hours before the tour date.
Small Groups (5 or more people):
For a person booking a group of people on a wine tour, you must advise us in advance us of any changes to your numbers going on the tour as the above cancellation policy conditions will apply. e.g. If you book for 5 people, you pay for 5 people, if you booking for 7 people, you pay for 7 people etc. unless you advise us of a change to your numbers in advance. We want to give you maximum flexibility for possible changes to your numbers but retain the right to sell any unwanted seats at least 7 days prior to the tour.
Payment:
Payment is collected on the tour date by the driver / guide. You can choose to pay by cash, eftpos or credit card (Visa, MasterCard. No AMEX).
What is included in your tour?
Full day tour from Newcastle region
Travel & transport on an air-conditioned mini-coach
Pickup & drop-off from convenient designated meeting points
All wine tastings included
Cafe lunch stop at the Matilda Bay Brewhouse Cafe
Visit one of the Chocolate Shops
Friends & solo travellers for a fun day out
Women – hen's, girls' or mums' day out
Couples – for anniversaries or date nights
Tourists and holiday makers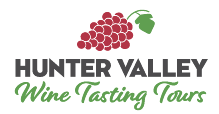 1800 400 008
International +61 2 9550 2100
108 Mitchell Avenue Kurri Kurri NSW 2327