Hunter Valley Wine Tasting Tours – Lunch Options



Enjoy anti-pasto, pizzas and salads on your Hunter

Valley wine tour

or purchase your own lunch on the day

Our full day Hunter Valley wine tours stop for lunch at the Matilda Bay Brewhouse Cafe.  Choose from the group tour cafe sharing lunch for $25 per person or purchase your own from their blackboard menu on the day.  When booking a private group wine tour you are welcome to dine at any cafe or restaurant of your choice in the Hunter.


Lunch at The Matilda Bay Brewhouse Cafe
at the Hunter Resort  –  $25 per person
Enjoy the group tour cafe lunch of anti-pasto platters followed by shared pizzas and salads with your choice of a glass of house wine, beer or juice. A table will be reserved in the restaurant area for tour lunch guests.

**  Sharing Menu  **
 To Start: shared Anti-Pasto platters
Hunter olives, salami, grilled vegetables and toasted breads
Followed by :
The chef's selection of the following pizzas:
HVR Meat Lover's Pizza
Chorizo, chicken, bacon, pulled pork and garlic aioli
Chicken Pizza
Chicken, bacon and avocado with chipotle mayonnaise
Smoked Salmon Pizza
Smoked salmon, spinach, dill, capers and aioli
Vegetarian Pizza
Roasted peppers, Fetta, olives and rocket
Sides of salads to share on the table:
Roasted tomato, red onion and rocket and Binnorie Fetta
and
Pear, rocket, prosciutto, gorgonzola with honey mustard dressing
Enjoy a glass of house wine, beer or juice with your meal
Filtered tea and coffee – available by self service
Please advise any dietary requirements at the time of booking.
Matilda Bay Brewhouse Cafe
For those guests that wish to purchase their own lunch on the day, check out the Matilda Bay Brewhouse Cafe menu where you can make and purchase your own  lunch selection on the day.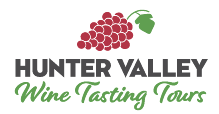 1800 400 008
International +61 2 9550 2100
108 Mitchell Avenue Kurri Kurri NSW 2327